Hard Drive Data Recovery NYC
Hard Drive Data Recovery Services NYC
---
Data Recovery NYC are the experts in recovering lost data from all types of devices and media. Located at the heart of New York City, Data Recovery NYC has been helping individuals and companies in New York City recovery their lost data.
Data Recovery NYC is the trustable and confidential service provider of hard drive data recovery in New York. Trust us to recover any type of data from a failed hard drive using our experienced engineers, experts, and state of art tools. We perform world-leading data recovery solutions from any hard drive make, any interface, operating system, model, or brand with over 98% recovery rate.
We serve all the five boroughs of New York City; Brooklyn data recovery, Bronx data recovery, Queen's data recovery, Manhattan data recovery, and Staten Island data recovery.
Whether you dropped your laptop in the heist of New York traffic or smashed your phone at the Statue of Liberty, information may be lost in any scenario. Data Recovery NYC is here to help your recovery the lost data in any system.
We are the best data recovery service provider NYC has. We have recovered data from a wide range of devices and media in New York City. Whether its data lost from Hard drives, laptops, cameras, SSDs, smartphones, RAID arrays, USB and many more. Data Recovery NYC is uniquely equipped with the highest security levels and standards to handle any data recovery scenarios.
For most customers, data loss is a frustrating endeavour that we would like fixed in no time—our data recovery offers unrivalled quality, instant and cost-effective data recovery services in NYC. We serve individuals, businesses and multinational corporations.
Some of the hard drive manufacturers we work on their drives include:
Seagate hard drive
Fujitsu hard drive
Toshiba hard drive
Maxtor hard drive
Western Digital hard drive
Samsung hard drive
Physical broken flash drives
Electrical damage
Reformatted hard drives
Clicking hard drives
Motor bearing failure
Lost or deleted files
Why do hard drives lose data?
Data Recovery NYC classifies data lost from hard drive into two categories
Logical failures; If you cannot access some or all your files on your hard drive, then it is a logical failure. This is caused by the reformatting of the drive or due to a lost partition.
Mechanical failures; When your hard drive is producing grinding noise and is not working then it is experiencing mechanical failure. This is caused by motor failure (hard drive dropped) or a head crash.
Causes of hard drive failure
These cases lead to hard drive failure and data loss:
Viruses
Overwriting
Human error
Natural disasters
Power surges
Physical damage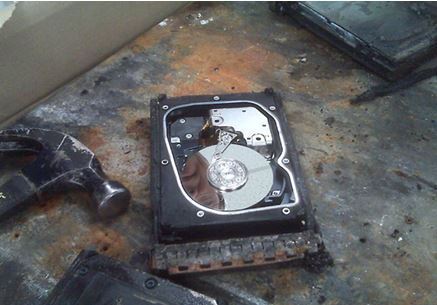 Data Recovery NYC works at delivering the best.
We have a team of engineers and experts who use proprietary processes and cutting-edge recovery techniques to enable successful data recovery.
The professional techniques and tools we use include:
Proprietary tools: our data recovery techniques can access and read around the damaged area in the case where there is physical media damage.
Cleanroom environment: hard disk data recoveries related to mechanical damage are performed in a dust-free cleanroom environment. Here it is dismounted carefully, accessed, examined, and processed.
Drive imaging: faulty hard drives are imaged to a working environment thus providing efficient data recovery.
Data recovery cost for hard drive
We offer free consultation services to our customers and we stick to the policy of no data no charges. We also offer diagnostic services at a small fee and charge fairly depending on the amount of data recovered and the processes used.
Why choose us?
No recovery is too big or too small for us. We offer the most professional and reliable work. You may only have one chance at data recovery don't waste it, give it to us and get your data back at affordable prices. Our team performs data recovery from all operating systems including; windows, Novell, Linux, VMware, UNIX, DOS, any Apple MAC OS and many others.
Our hard drive data recovery services offer;
Data recovery NYC has a 98% success rate in all our 2000+ recoveries.
Advanced data recovery facilities including class 100 ISO 5 clean room.
24/7 response time and action
We offer free data recovery assessment and quotation
Security Credentials Including SSAE 18 Type II Certification
A 48-Hour Average Case Completion Time
Security Credentials Including SSAE 18 Type II Certification
No Recovery, No Service Charge Guarantee
Highly Advanced & Proprietary Data Recovery Technology
• Data security during data recovery
Solutions
Call Data Recovery NYC for all your data recovery services in NYC
Our data recovery professionals are on standby to answer your call. Our experts can advise in your immediate state where data was lost to avoid further damage. The experts will also provide you with data recovery quotes for all your parts, cleanroom and service charges after hearing your case. Data Recovery NYC has NO Upfront charges and No hidden charges. We adhere to our policy of No Recovery, No Service Charge.
In New York City, we offer specialist data recovery services from all removable and non-removable media and devices such as USB drives that may suffer from logical, mechanical and electrical failures. Also, we recover and repair data from storage devices that may be damaged by old and new operating systems, such as OS updates in Windows and Mac.
Our services include:
• Hard Drive Recovery • Emergency Data Recovery • Recover Deleted Files • External Hard Drive Recovery • RAID Data Recovery • Computer Data Recovery • USB Thumb Drive Recovery • Mac Data Recovery • Server Data Recovery • Email Recovery • Exchange Data Recovery • Photo Recovery • Laptop Data Recovery • Camera Data Recovery • iPod Data Recovery
Contact US NOW
It is our job at Data Recovery NYC to give you consult on the best options, software tools, and data recovery experts NYC to safely recover your data. It could be your computer, server, tablet, laptop, or network.
We strongly discourage you from attempting to recover your files without consultation from professionals. Sometimes third-party tools may clone your data and make a recovery difficult or lead to permanent data loss. Contact us Now for any data recovery issues in New York City.
---